The Monster Hunter license has always reigned supreme over the particular genre Capcom created, but Wild Hearts has every intention of introducing an alternative at the start of the year. Since we are big fans of Monster Hunter, and we also had the opportunity to play Wild Hearts for a few days, we invite you to find out our comparison. Also discover a summary of all the useful information below.
Release date and availability on different gaming platforms
Being a major title under the leadership of Electronic Arts, Wild Hearts is launching on modern platforms February 17, 2023, for example on PS5, Xbox Series X/S, and PC. The publisher understands that gamers also want to get their games on one platform, so you can get them on Steam, the Epic Games Store, Origin, and even the EA app. Don't expect it to release on older devices or Switch.
On some platforms, such as Steam, the release date is listed as February 16, while on others, such as the PS Store, it is listed as 17. It is not known at this time whether this was a mistake or not.

Wild Hearts Editions price and content
Bad news for tight wallets, the price of the game is "Next Gen", including on PC, since it is 69.99 euros everywhere for the standard version Game.
You can also purchase a fileKarakuri edition priced at 89.99 euros, which adds a decorative lantern to your bases and emotes and two sets of armor that can come in handy early in the game. This is a group of samurai and group of ninja. From what we've seen in the game, it likely provides a boost early in the game, but since the central concept is forging and upgrading new pieces of gear, the effect is symbolic.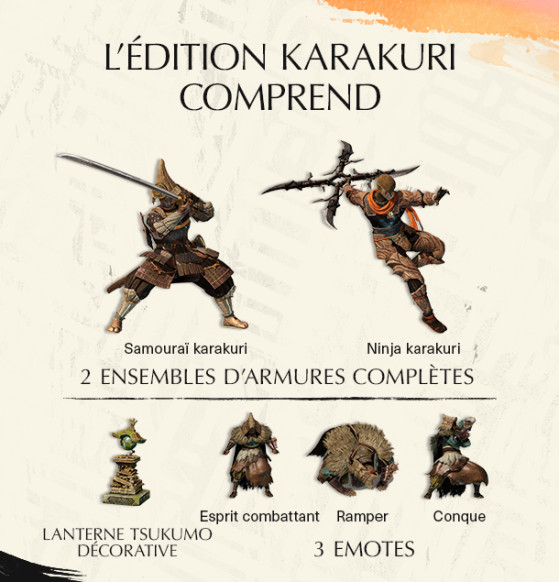 Pre-order bonus
We can't escape the pre-order bonuses in Wild Hearts, but their value is also symbolic, because they include 5 stickers for in-game chat (we're aware of the Monster Hunter effect), as well as emoticons. This is valid for both versions of the game.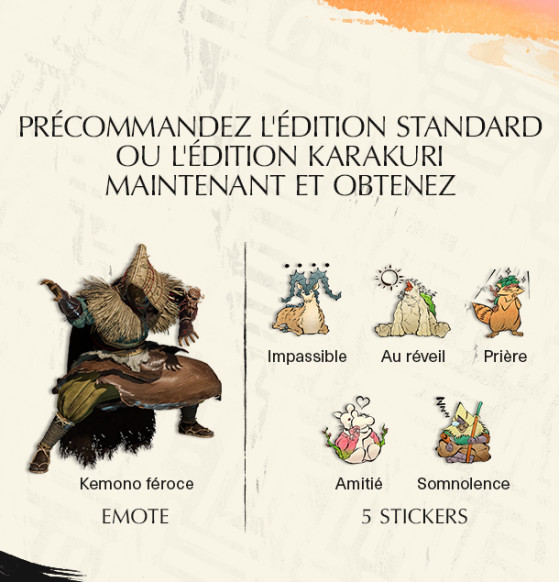 desired configuration
For PC gamers this isn't much of a surprise, you'll need a reasonably modern machine to play in good conditions. However, the requirements are not excessive either, even for the recommended configuration. The size of the game is reasonable too, for modern standards, since you need 80GB on your device, and that goes for consoles as well.
minimum
Requires a 64-bit operating system and processor
Operating system: 64-bit Windows 10
Processor: Intel Core i5-8400 / AMD Ryzen 5 2600
RAM: 12 GB of memory
Graphics: GeForce GTX 1060 (6 GB VRAM) / Radeon RX 5500 XT (8 GB VRAM)
DirectX: version 12
Network: Broadband Internet connection
Disk Space: 80 GB of available disk space
Sound card: 16-bit 48kHz WAVE stereo format
Recommended
Requires a 64-bit operating system and processor
Operating system: 64-bit Windows 10
Processor: Intel Core i7-8700K / AMD Ryzen 5 3600
RAM: 16 GB of memory
Graphics: GeForce GTX 2070 (8 GB VRAM) / Radeon RX 5700 XT (8 GB VRAM)
DirectX: version 12
Network: Broadband Internet connection
Disk Space: 80 GB of available disk space
Sound Card: 16-bit / 24-bit 48kHz WAVE format Stereo / Surround (5.1ch / 7.1ch) / Spatial Audio (Headphones / Speakers)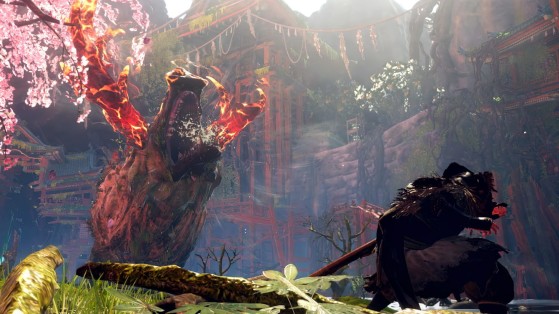 Story and characters
The story is relatively basic, at least in the beginning. We immerse ourselves in a fantastic version of medieval Japan, and as samurai kill each other, we embody a kimono hunter, who seeks to put an end to the threat these creatures pose to the Azuma region. He then discovers the strange technology of Karakuri's ancestors, which will aid him in his quest. Wild Hearts seems to be looking to go a little further than Monster Hunter, with richer dialogue and more possible answer choices. The real city will also be present with different NPCs, in order to receive quests and advance the plot. But it is one of the elements of the game that has not yet been shown in detail. Anyway, don't expect it to be on the same level as The Last of Us, we're not here for that, but to face giant monsters.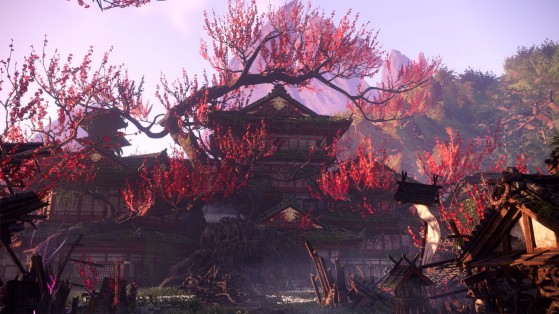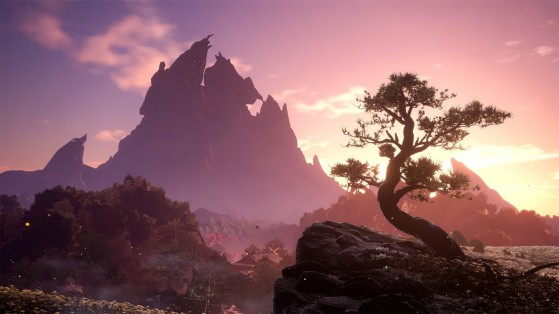 Play
Let's get to the heart of the matter, with the gameplay. It's no surprise, but overall, it looks a lot like Monster Hunter World, it's an Action-RPG. We have a camp, and we can carry out missions that require killing a specific giant monster, or we can go hunt them freely in the open world. The battles themselves have similarities, but also differences with Monster Hunter.
There is a large selection of weapons, with the usual options, such as the katana and the great sword, but there are also exotic alternatives, such as the combat parachute. Each weapon has its own playstyle, combos, stances, and so on. The offensive moves and melee attacks were much more than in MH, with particularly generous hit boxes, and an action that seemed to us more intuitive. In the version we tested, it was far from having the depth or polish of Monster Hunter, but it was already a few months ago, and it could get better since then.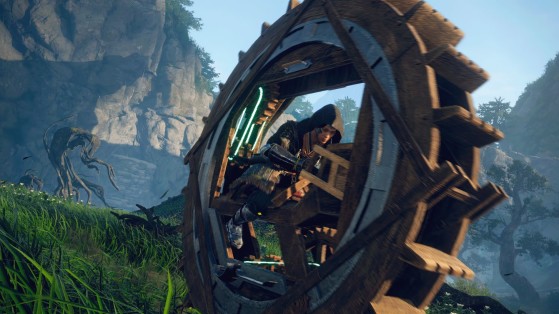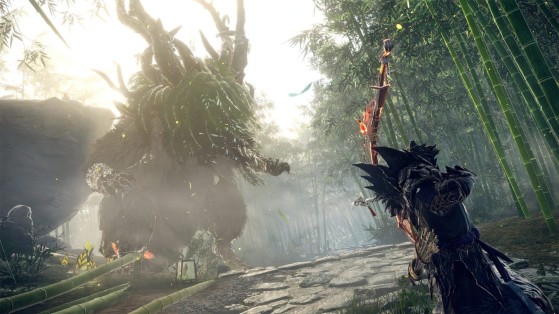 For their part, the big beasts are fantastic creatures, the kimono, which mixes a generic shape taken from a real creature, with supernatural elements, such as roots, vines, fire, ice, etc. Thus each fight is different from the other, and you have to learn how to manage and avoid these attacks. Because the monsters are so large, it is possible to attack them from different angles, damaging certain parts, such as their fangs, and even cutting off their tails in some cases. Battles are relatively long, as they last several minutes, with regular area changes, requiring you to keep track of your enemies.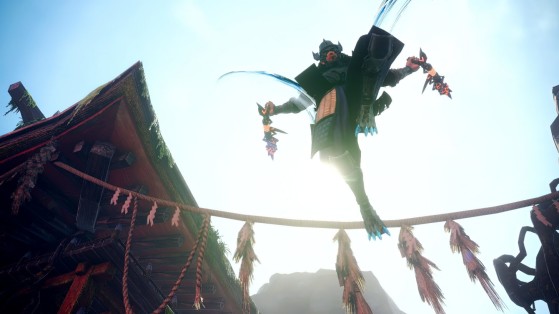 Where Wild Hearts really breaks new ground is in the introduction of Karakuri, special cube-based mechanics. These allow you to build structures and traps during the fight to help you. They add a tactical and even creative side. You can create a simple spring to do an air attack, or you can create a wall for the giant hog charge to crash into. Traps such as the giant bomb are also available. New mechanics are unlocked by hunting new Kemonos. And, of course, it is possible to play solo or in co-op up to 3, which allows creating interesting combos with Karakuri hunters.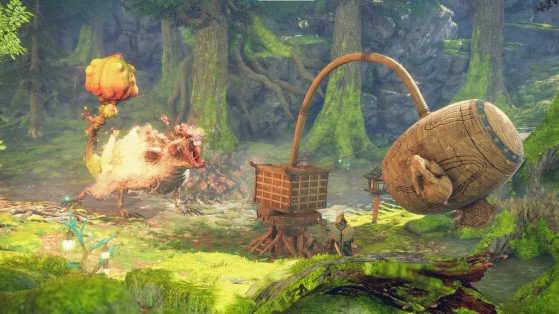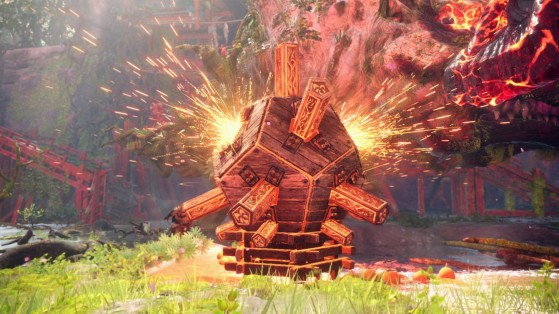 open world
Wild Hearts seems to offer what Monster Hunter fans have been waiting for for so long, a true open world to live and hunt in, rather than a city serving as a hub between two missions. Alternatively, camps can be built in safe areas of the world, complete with a forge, shrine, and various structures to unlock new features, such as the Watchtower, which indicates the location of monsters in the area. The world itself seems to adopt the area philosophy of MHW, with more or less open areas serving as battlefields, connected by narrow passages, with branching pathways. But Hunter isn't limited to these trail-level daisies. Using Karakuri and various mechanics, such as zipline ballistae, he can easily reach the top of a cliff or mountain.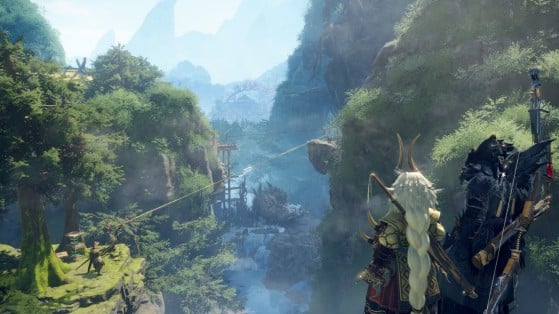 You can even trap a monster to go down directly on it. So you can arrange the world in your own way, with semi-permanent bases and structures to make it easier to navigate and hunt. Different biomes are planned, with their own terrain, kimono and atmosphere. Various resources from the world must also be harvested, such as plants, minerals, and materials taken from the bodies of the kimono you hunted. These materials are then used to craft consumables, prepare a meal, and craft weapons and armor. The world also seems to have its share of secrets to be found, such as combat aides. However, we are still far from a traditional open world, with a map dotted with question marks to be systematically explored. It appears to act as a theater of clashes in this case.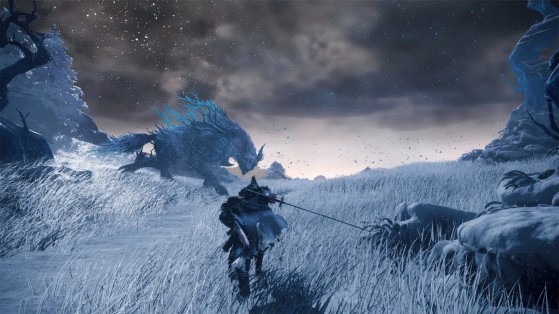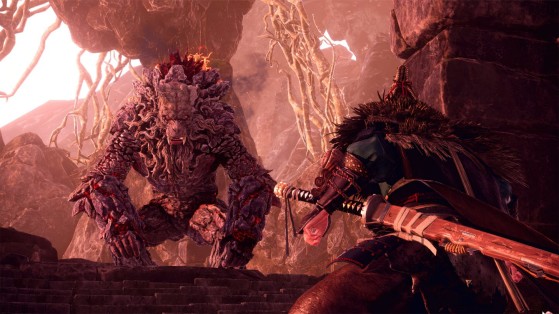 , Wild Hearts: release date, play history, open world… know it all