An American gamer built his own PC by ordering an SSD from Amazon. But when it came time to unpack the order, he got a surprise that he hadn't expected at all. How do you act if this happens to you?
Deciding to build your first personal computer is always a process fraught with a little bit of anxiety and excitement. In practice, building a PC isn't that complicatedBut we are always afraid of making a mistake. However, by choosing the right ingredients, you increase the chances that everything will be just right.
Reddit user Huntsey1995 decided to embark on this adventure. Among the ingredients he chose Samsung 980 PRO NVMe M.2 PCIe 4.0 SSD 1TB who ordered it from amazon. only, upon unpacking his bag, He was surprised to find not one, but ten hard drives in there! Post a simple picture in which we see the result of the loot he didn't want to have, but which is nonetheless under his nose.
Receives 10 hard drives instead of one from Amazon
User received Many letters after his discovery were published . Some netizens do not hesitate to describe him as "lucky" as he will be able to significantly increase the storage space of his new computer, while others suggest that he Sell ​​SSDs you don't needto continue financing his machine. It must be said that an SSD of this type currently costs approx 115 euros on Amazonwhich represents More than 1,000 euros of unsolicited requests.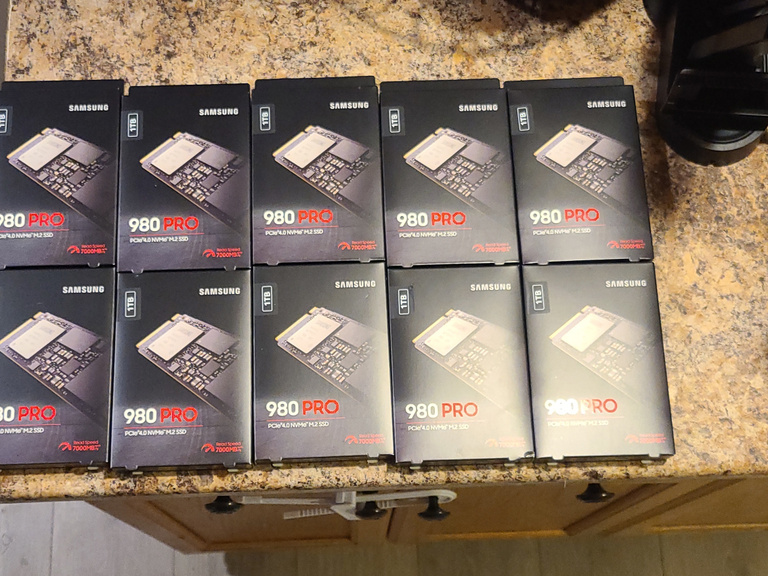 Other netizens think so Huntsey1995 should return the SSDs he didn't pay forBecause it could be considered theft. However, some Amazon customers add that they themselves have received duplicate products in their packaging without having to inform the platform. So what do you do in such a situation?
What do we do when we receive products that we did not order?
When we receive an order that is not in our favor, for example with missing or damaged products, our first instinct is to complain to the merchant. though, When delivery is in our best interest, our reaction may be different. So the question arises: What do you do when you receive a lot of products, or a package of higher value than expected?
The answer may vary greatly depending on the country in which this situation occurs. in France, Section 121-12 of the Consumer Code states that It is prohibited to demand immediate or deferred payment for goods or services rendered by a professional or, in the case of goods, to demand their return or retention, without being subject to a 'prior order of the consumer'. But when it comes to downright wrong, it is Article 1376 of the Civil Code that tends to apply : If the delivery does not conform to the order, then the matter shall prevail, and therefore you should not keep the products received in excess.
And therefore, If you decide to keep the wrongly received products and merchant notices, they may require you to return or refund them . If you are unable to do so, you risk legal action. Therefore, it is better to avoid any problem and return the respective products.Or, at least, keep it as is in case you ask it.