The sparrows have been whistling from the roofs for months: Xiaomi will probably present the Poco X5 and the Poco X5 Pro under the "inexpensive" label Poco on February 6th in India. The first official images have now been published by a German tipster.
Xiaomi's Poco X5 and Poco X5 Pro are available now in India on February 6th.
Indian has emerged as an important sales market for many Chinese smartphone manufacturers. Last but not least, the global OnePlus 11 5G will also be presented there on February 7th. Probably also the reason why the Poco X5 and Poco X5 Pro from the parent company Xiaomi will be officially presented one day earlier than the Oppo subsidiary on Monday, February 6th. The company has not yet communicated this explicitly, but the signs are clear on Twitter (see cover photo). We traditionally expect an official announcement a week before the launch event – that is, tomorrow.
The Poco X series is about the same as the middle class and has always offered around 300 to 400 euros in our tests, such as the Poco X4 GT recently, a very good price-performance ratio. Now, in just over a week, the Poco X5 and Poco X5 Pro are due, of which at least one model should also reach our store shelves.
Poco X5 from Xiaomi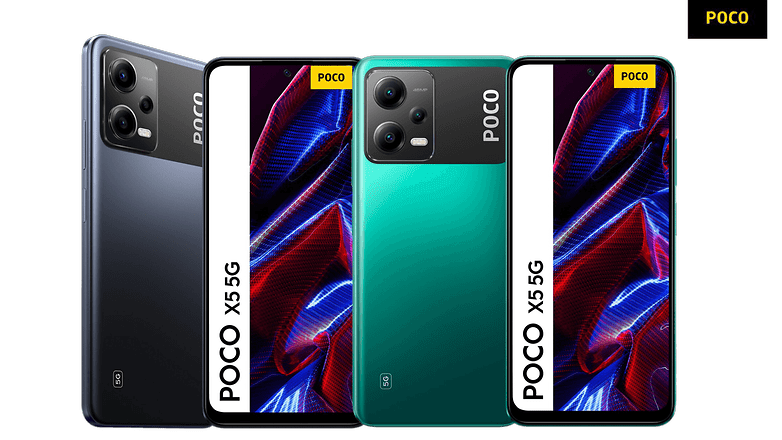 This vanilla model features a 6.67-inch AMOLED display with a widescreen resolution of 2,400 x 1,080 pixels (FHD+) and a 120 Hz display. The popular 5G-capable Snapdragon 695 from Qualcomm provides the necessary propulsion.
In addition to 6 GB of RAM, we expect a 48 MP main camera, as well as an 8 MP ultra wide-angle and a 2 MP macro camera, which is "popular" for everyone. A 13 MP front camera is available for selfies. It has a capacity of 5,000 mAh and can be supplied with a maximum of 33 watts of power. As the data now looks familiar – appearances are not deceptive: it is a labeled Xiaomi Redmi Note 12.
The Poco X5 Pro has 108 megapixels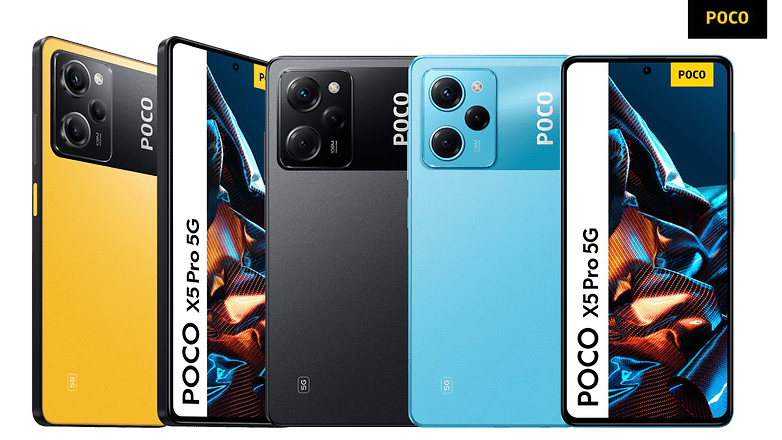 As expected, the Poco X5 Pro can go a step further. The 6.67-inch display is identical to the base model, except that it's protected by Corning Gorilla Glass 5 instead of the second-generation glass. A Snapdragon 778G from California provides sufficient propulsion, flanked by either 6/128 or 8/256 GB of RAM and internal program memory. Here, too, there is a triple camera on the back, and the main camera here takes pictures with 108 megapixels. A little more is offered on the front with 16 megapixels.
Its 5,000 mAh battery also comes with a 67 watt HyperCharge power adapter and IP68 certification. If I give a tip, I would assume that the Poco X5 Pro from the two test subjects would come to us in Germany. It's a normal human now.
The Poco F5 Pro has already been certified by the US FCC (Federal Communications Commission) and is therefore also due for an official launch shortly. It also remains exciting in the middle class, albeit confusing. Are you sure you came to the next pit, right? You will probably already be looking forward to the worldwide launch of Xiaomi 13 (for hands-on) and Xiaomi 13 Pro, we still have not clarified that Xiaomi 13 Ultra will be present at the MWC 2023 in Barcelona.
What do you think of the Xiaomi subsidiary Poco and its mid-range smartphones? The 2 MP macro camera alone was allowed to trigger some of you! Let your emotions run wild in the comments section!